Ricardo Tamura was born and grew up in São Paulo. Being a highly gifted person, he finished High School at the age of 15. By age 20 he earned two Bachelor degrees in Geology and Physics from the University of São Paulo. While working on his third degree in Geophysics at the same University, he started teaching Geology as an Assistant Fellow. In addition, he worked as a Computer Science teacher and as a chess instructor at the Colégio Bandeirantes in São Paulo. In his spare time, he started to take voice lessons.
After auditioning for the famous Soprano Licia Albanese in New York, he decided to apply to the Juilliard School of Music. He was accepted to their Graduate Program and received a scholarship to study voice with Marlena Malas. Later, he attended the Accademia Musicale Chigiana in Siena, and the Accademia Verdiana under the guidance of Carlo Bergonzi in Busseto. He also took private lessons with Licia Albanese, Carlo Bergonzi, and German conductor Bernhard Lang.
His first engagement as a singer was as a member of the Internationale Opernstudio at the Zürich Opera House. He has lived in Europe ever since and has appeared regularly in a variety of mostly German-speaking Opera Houses, among them, the Staatsoper Hannover, the Deutsche Oper am Rhein, the Staatstheater Nürnberg, Staatstheater Kassel, and the Vienna Volksoper. As a concert singer, he appeared at the Herkulessaal in Munich, the Kölner Philharmonie, with the Nagoya Philharmonic Orchestra in Japan, in Taiwan and in Israel. His largest audience (about 60,000 people) attended an open-air concert (2008) at the Luitpoldhain in Nuremberg, Germany.
His concert repertoire stretches from Händel's "The Messiah" to Verdi's Requiem, and includes works as different as Carl Orff's "Carmina Burana", Dvorak's "Requiem", and Bacalov's "Misa Tango". He has worked with conductors such as Marco Armiliato, Chen Zimbalista, Fabio Luisi, Daniel Oren, Pier-Giorgio Morandi, Lothar Koenigs, James Levine, and Placido Domingo.
Outside of Germany, Ricardo Tamura has appeared, among others, as Radames ("Aida") at the Arena di Verona, as Bacchus ("Ariadne auf Naxos") at the Welsh National Opera, as Erik ("The Flying Dutchman") at the Festival de Opera de Belém (Brazil), and as Calaf ("Turandot") at the Volksoper Vienna as well as the Wichita Grand Opera. He had his Metropolitan Opera debut in December 2013, as Cavaradossi ("Tosca"), and has returned in the title role of Verdi's five-acts "Don Carlo", as Riccardo, in Verdi's "Un Ballo in Maschera", and as Turiddu, in Mascagni's "Cavalleria Rusticana". He became the first Brasilian tenor ever to sing a leading role at the MET.
After suffering a severe brain hemorrhage in 2017, he was forced to take a break from his international career. Contrary to all expectations, he was back on stage ten weeks later and has since then appeared in many operas of his main repertoire (like "Tosca", "Carmen, "Manon Lescaut"), and debuted in a completely new one: In the title role of Wagner's "Rienzi". He currently lives in Nuremberg (Germany).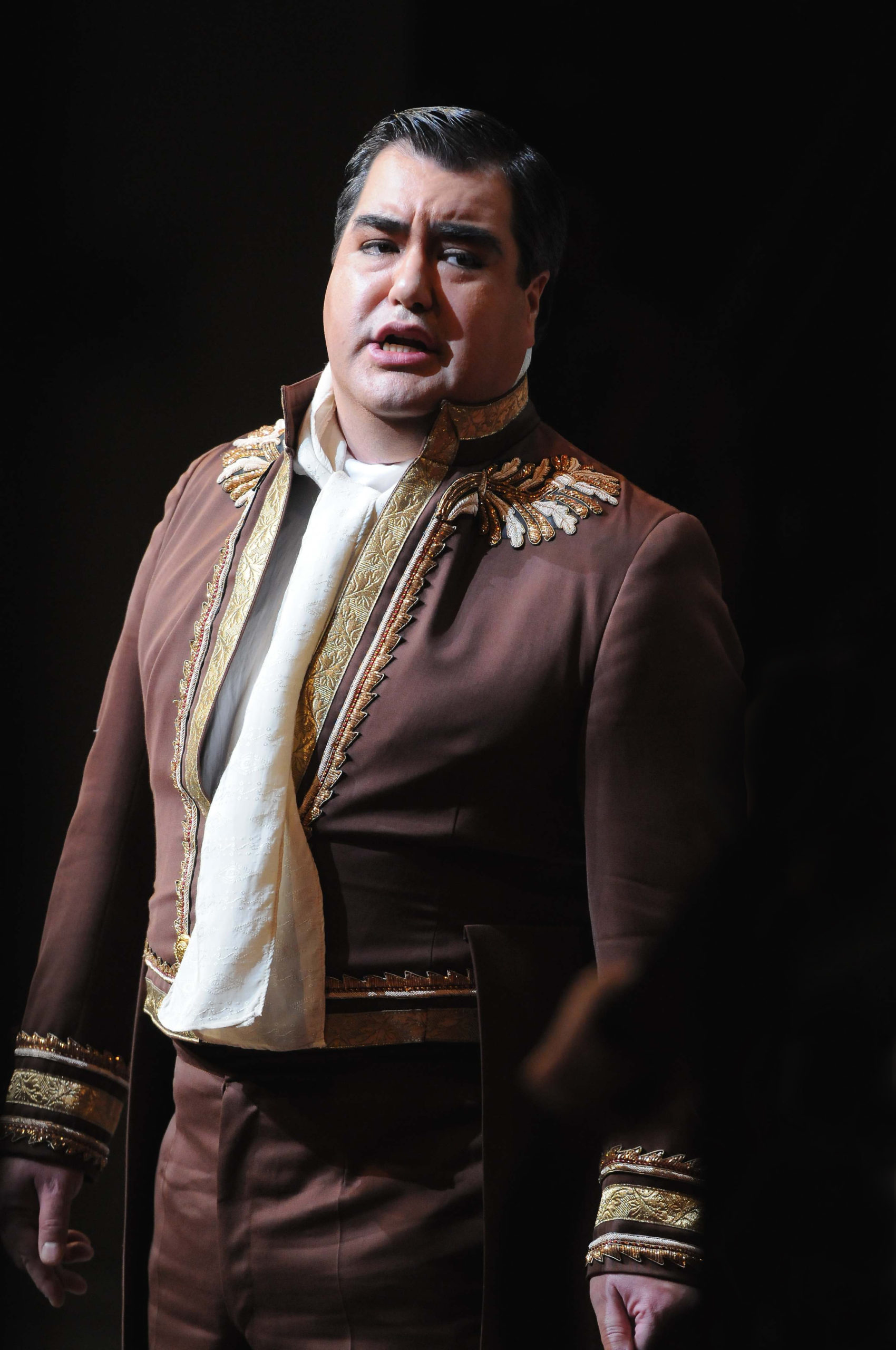 OPERA
Georges Bizet, CARMEN, Don José
Ruggero Leoncavallo, PAGLIACCI, Canio
Pietro Mascagni, CAVALLERIA RUSTICANA, Turiddu
Giacomo Puccini, LA BOHÈME, Rodolfo
Giacomo Puccini, MANON LESCAUT, Des Grieux
Giacomo Puccini, IL TABARRO, Luigi
Giacomo Puccini, TOSCA, Cavaradossi
Giacomo Puccini, TURANDOT, Calaf
Richard Strauss, ARIADNE AUF NAXOS, Tenor/Bacchus
Richard Strauss, DER ROSENKAVALIER, Ein Sänger
Giuseppe Verdi, AIDA, Radames
Giuseppe Verdi, UN BALLO IN MASCHERA, Riccardo
Giuseppe Verdi, DON CARLO, Don Carlo
Giuseppe Verdi, NABUCCO, Ismaele
Giuseppe Verdi, OTELLO, Otello
Giuseppe Verdi, RIGOLETTO, Duca di Mantua
Giuseppe Verdi, LA TRAVIATA, Alfredo
Richard Wagner, DER FLIEGENDE HOLLÄNDER
Richard Wagner, DAS RHEINGOLD, Froh
Richard Wagner, RIENZI, Rienzi
Richard Wagner, TANNHÄUSER (Dresden Version), Tannhäuser
OPERETTA
Franz Lehár, DAS LAND DES LÄCHELNS, Sou-Chong
Franz Lehár, DIE LUSTIGE WITWE, Rossillon
Fred Raymond, MASKE IN BLAU, Armando Cellini
J. Strauss Jr., DIE FLEDERMAUS, Alfred
CONCERT
Luis Bacalov, MISA TANGO
Antonín Dvořák, REQUIEM
Antonín Dvořák, STABAT MATER
Georg Friedrich Händel, JEPTHA
Georg Friedrich Händel, THE MESSIAH
Joseph Haydn, HARMONIEMESSE
Otto Nicolai, TE DEUM
Carl Orff, CARMINA BURANA
Giacomo Puccini, MESSA DI GLORIA
Ariel Ramírez, MISA CRIOLLA
Giuseppe Verdi, REQUIEM